Precision grade micro gear pump of china:
Provides a stable fluid delivery solution for industrial production:
Micro gear pump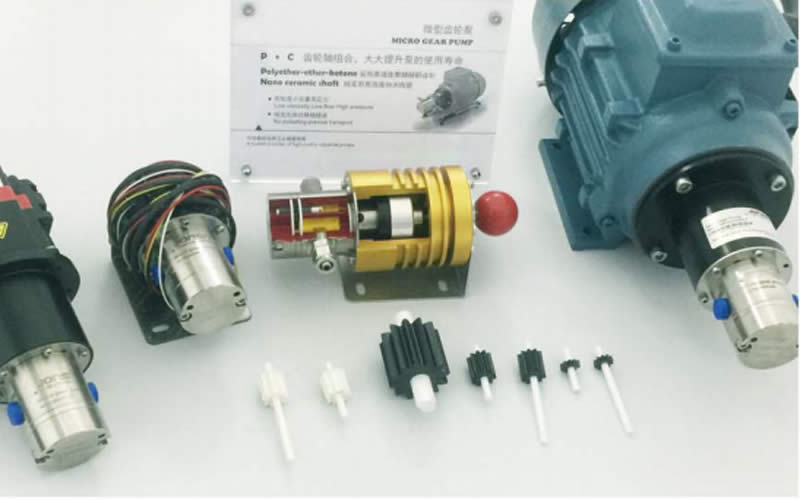 MR brand The main advantages of precision magnetic micro gear pump and traditional pump are as follows:
1, no pulse accurate delivery
Positive displacement displacement pump, through the gear to provide continuous accurate fluid delivery, with servo or stepper motor, delivery accuracy of +/-0.2%
2. Strong vacuum suction capacity, high conveying pressure and stable
High pressure delivery in low viscosity liquids
Magnetic drive and static O-ring seals ensure that the pump medium is isolated from the outside world
4, excellent workmanship, modular design
The design optimizes the gear shaft and pump body runner design, and has a longer service life. It adopts lean production concept, advanced processing technology and exquisite workmanship. It is an external gear pump designed and manufactured for high-end operation.
5, selection specialization
Tens of thousands of micro gear pumps have accumulated experience, accumulated a large number of experimental data, and specialized selection and evaluation to develop solutions for you and reduce risks.
Especially suitable for micro-transport system, automatic feeding (dosing) system, water treatment system, sampling equipment (including vacuum environment sampling), laboratory equipment, cooling system (refrigerant circulation pump), casting machinery, packaging machinery, disinfection cleaning system , drug filling system, chemical metering system, small test / pilot plant, etc. need small flow, high pressure, flow stability, accurate measurement, no pulsation delivery occasions.
The MR micro gear pump has a natural advantage over the traditional diaphragm metering pump. The traditional diaphragm metering pump has a pulse, a large volume, a complicated piping system, and often replaces the diaphragm.
The MR micro gear pump is small in size, high in transmission efficiency and long in life. No need to change spare parts frequently. Module design is easy to disassemble and maintain.

Flow data sheet: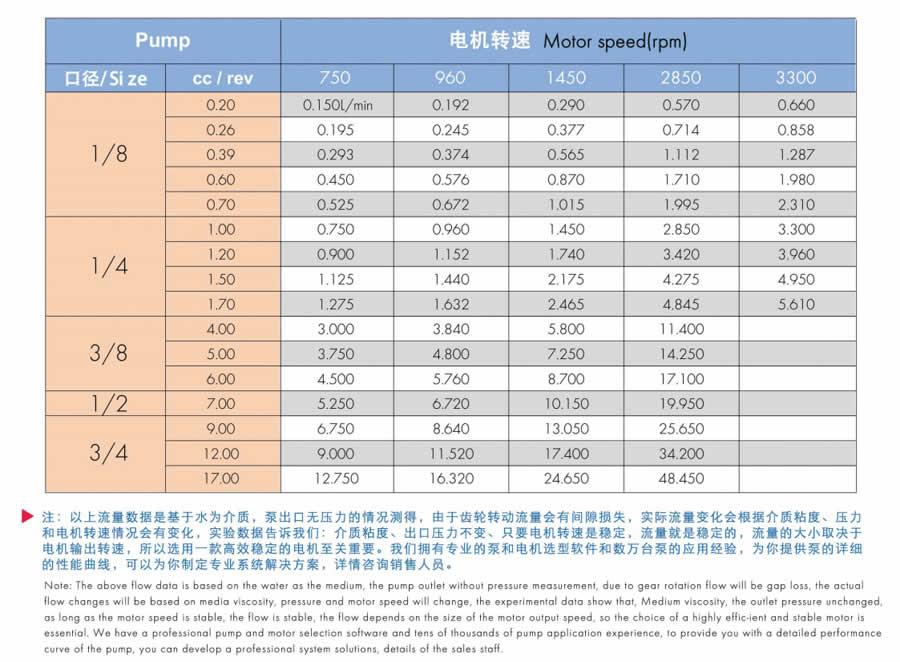 performance parameters:
Flow range: 0.001-48.5 L/min
Outlet pressure: 0-25.5 bar (depending on viscosity)
Inlet pressure: -0.9 to 10bar
Maximum temperature: -20 ° C -180 ° C
Viscosity range: 0-3000cps
The largest proportion: 1.8
Import and export routes: NPT1/8, NPT1/4, NPT1/2, NPT3/4, etc.
Drive mode: AC 220V/380V, brushless DC 24V, servo, frequency conversion, explosion-proof motor
Gear material:
Z: PEEK+ ceramic (for low viscosity non-abrasive media) default configuration
K: PEEK+316 (for low viscosity non-abrasive media)
S: alloy (for medium with good lubricity)
C: ceramic (for fine particle abrasive media)
6 plain bearings: K: PEEK Z: ceramic F: PTFE
7 Structure: L: Import and export level B: Import and export vertical 90
8 Seal: F: PTFE M: VITON E: EPDM
Gear: PEEK, PTFE, PPS, carbide material
Bearing: graphite, PEEK, PPS, ceramic, PTFE
Sealed: PTFE, VITON, EPDM