Mono Screw Pump, Rotor single screw pump, sludge screw pump, thick slurry pump is a positive displacement pump, which uses one or more screws to move fluid or solids along the screw shaft. In its simplest form (Archimedes screw pump), a single screw rotates in a cylindrical cavity to move the material along the main axis of the screw. This ancient machine is still used in many low-tech applications, such as irrigation systems for transporting grain and other solid agricultural machinery. Saiken Pumps single screw pump is a new type of pump developed based on this structure. It is characterized by stable flow, small pressure pulsation, certain self-priming ability, low noise, high efficiency, long life, and reliable operation. Because the stator is made of elastic materials, this screw pump can be used for the transportation of high-viscosity fluids and contains hard materials. The transportation of suspended particle media or fiber-containing media can meet the conditions that other pumps cannot adapt. The flow rate is proportional to the speed. And its outstanding advantage is that it does not form eddy current when conveying the medium, is not sensitive to the viscosity of the medium, and can convey high-viscosity medium.
G model Mono Screw Pump Flow:1.0-150m3/h. Head:0.6~1.2MPA Material: cast iron, stainless steel. Transfer liquid:Sewage, sludge, grease, emulsion, cream
G type helical rotor pump model:G20-1 G40-1 G50-1 G70-1 G85-1 G105-1 G135-1. G20-2 G40-2 G50-2 G70-2 G85-2 G105-2 G135-2
Specification and Application
- Liquid with different viscosity, especially the thick medium which is difficult to transfer.
- Liquid with different concentration and dry material which is separated and dehydrated.
- Liquid which contains solid paticle, fibre and suspended matter.
- Mixture of liquid, gas and solid.
- Sensibility liquid which could not be mixed, cut and rob.
- Corrosive liquid.

G model Mono Screw Pump diagrammatize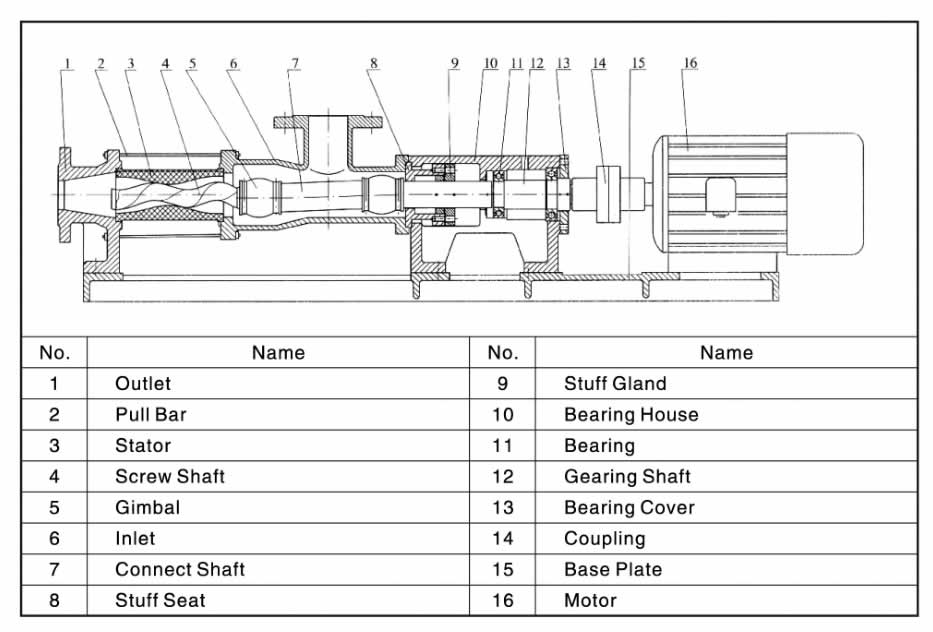 If you need more information, please contact us by email!